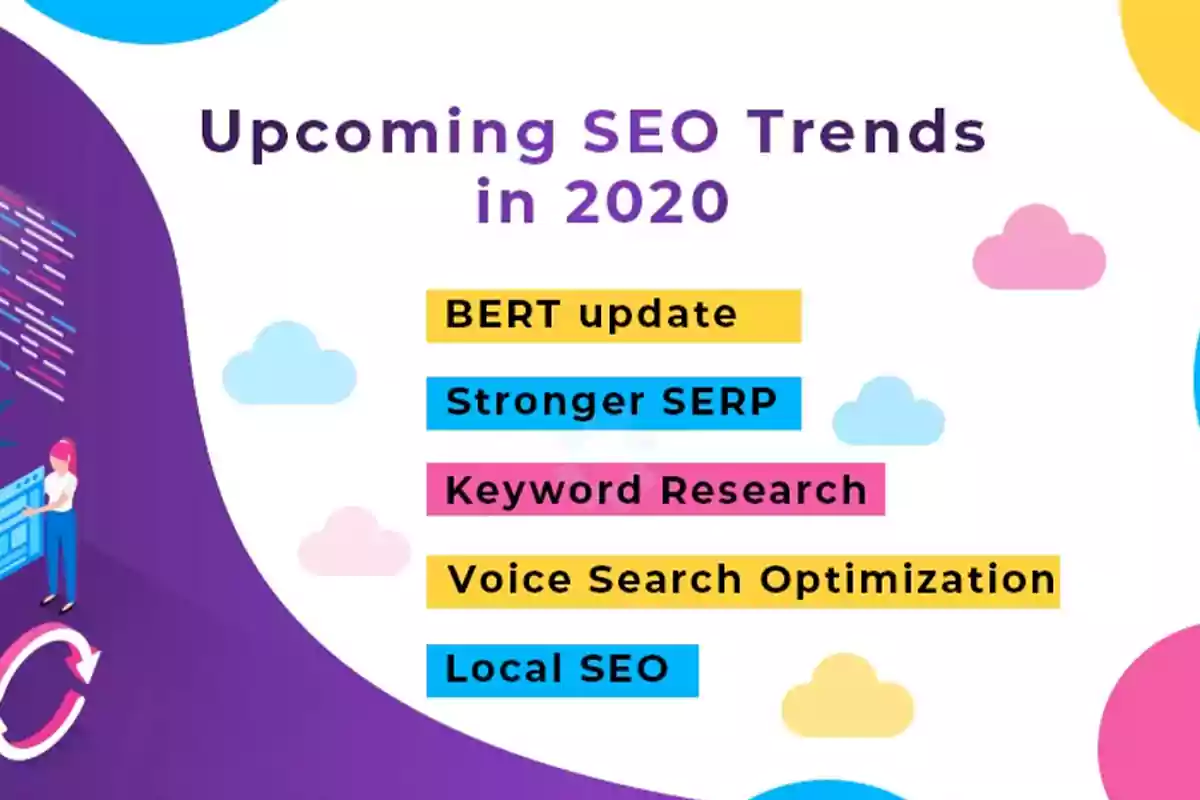 Search Engine Optimization is a dynamic process. It keeps on changing and new things keep adding on to improve the whole strategy. This ultimately improves the outcome, beneficial to the clients for their business and company to secure revenue. An analyst will never get bored of this as the algorithm keeps on updating and fresh concepts never make it uninteresting. It's 2020 and many new concepts have been introduced in the technological world. In this blog, you will get to know about SEO trends which are notable this year.

To increase the online presence of your business, you must follow the latest strategies from the SEO perspective. As an SEO professional, you have to keep yourself updated with new things. The most popular search engine Google always brings some updates in its algorithms, not for bringing complexity but to offer a smooth user experience. Let's have a look at SEO trends 2020, which you should consider if you want to gain your position on the internet this year.
Introduction to BERT update:
As per Google, this update will be related to complicated queries as per the context. BERT, i.e. Bidirectional Encoder Representations from Transformers, will help in searching better and propositions (such as 'for' and 'to'). It will be natural language processing.
Whenever a user searches for any query, this algorithm will help in analyzing the search queries, not those web pages. If any website will have unsystematic content, it won't be able to appear early on the SERP. The main benefit of this algorithm is that the users will get the most relevant results on the first pages.
In this way, it's not wrong to say that the latest SEO trends will be focusing on the context. Google will focus on more accurate results. It is also notable that in the year 2020, the relevancy of the keyword research tool might lose its value. To reach out to the targeted audience and fulfilling their demands will be more important this year.
Well, the story doesn't end here, Google also made changes to featured snippets. This will help in bringing more relevant results.

SERP will be stronger:
In this New Year, the concept of SERP i.e. Search Engine Result Pages will be different. There are many things added to this, like 'People Also Ask for' (a question answer box related to the search query). The ad-share percentage has also increased.
A new concept based on video-oriented results has been introduced for the sake of user's convenience. All these features leave a negative impact on the organic clicks and there is a decrease of about 10% from 50% in the same.

However, to continue receiving organic traffic on your website using 2020 SEO techniques, an expert must think out of the box and go for long-tail keywords and omnichannel marketing strategy.
Keyword research will be more important:
Google has not shown any leniency in Keyword importance. Today, they are as much important as they were in the past. Whether it is a text query or voice search, keywords hold the important value as a primary factor for ranking.
Instead of a direct keyword, an SEO expert must focus on the topic and predict secondary keywords from the root keyword. You must focus on those keywords which result in more clicks.

So, to rank your website, you must have to think in a 360 degree way while considering the keyword. Give more and more emphasis on them, but never go for keyword stuffing and adding irrelevant keywords. Don't forget some past rules are still applicable in SEO Trends.

No doubt, the best keyword researching tool Google AdWords will be helpful to offer the best keywords. To rank your article, you must keep focusing on the keyword research. In addition to tools, you have to brainstorm to find out relevant keywords.
Voice Search Optimization (VSEO) will be important:
It is expected that the voice search concept will get a high hike in the year 2020. Most of the voice search query strategy is used by smartphone users. As per the statistics, about 55% of teenagers are using voice searches on Google.

In general, there are three types of questions answered by Google:
Direct Answer Question (DAQ): This type of query starts with What, Which, Where and Who.
Short Answer Question (SAQ): This type of question will start with Why, Can, etc.
Long Answer Question (LAQ): There is an involvement of a longer and instructional query.
Some of the benefits of focusing on the voice search strategy are:
Quick response from search engine to increase user engagement
Increase organic traffic on the website
Connecting with the users in a better way
Increased hopes of sales and conversation
More brand awareness and online visibility
Entity popularity will be important to Local SEO:
To rank high, the local SEO will be as important as it was in the past years. About 46% of searches on Google are associated with the local intent. For example, if anyone searches for the best café in New York, then the search engine will show those websites which have strong local SEO.

In the local SEO, the entity's popularity and entity engagement are valuable. In simple terms, anything could be defined as an entity that has the following features.
Singular
Well defined
Distinguishable
To overcome this challenge, your focus points should be:
Competitor Analysis
Focus on unique content which is better than your competitors
On-page SEO
Verdict:
Search Engine Optimization is not a static process that follows the same strategies and concepts. New things keep on getting integrated into this to improve the purpose and use of search engines. This may keep giving you a little bit of stress and keep you on the edge. But this would also keep giving you new challenges and keep boredom off of your tables. The future of SEO in the coming time is bright, so be ready for investment and clever strategies. Have a happy SEO hunting.