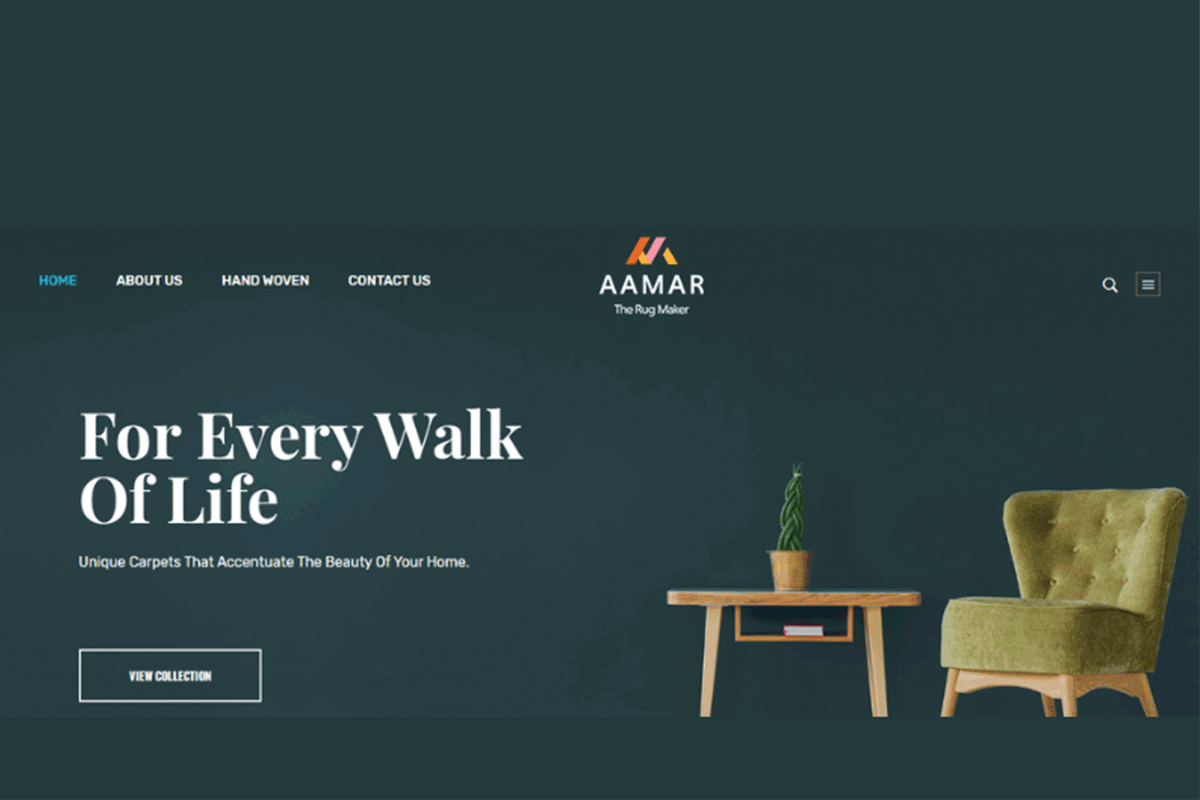 About Aamar Industries
Aamar Industries are among the sector leaders when it comes to manufacturing exceptional carpets. All their outstanding marvels are authentically hand-made. They work upon their charming artwork in the royal city of Bikaner, Rajasthan, and are leading carpet exporters in India.

Up until last year, one of the best carpet manufacturers in India was doing great. But time changes, right? With the internet on the rise, people often want to know why digital marketing is important for small business owners? Sabhi Digital presents excellent digital marketing ideas for small businesses as well as grown-up startups. One such company that was in immense need of digitising was Aamar Industries. Here's why and how we did everything.

Why Digitise?
Aamar Industries had two motives for digitising themselves – short term view and long term view.

Short Term View
India's most important handicraft fair, EPCH was about to go online in 2020, and the carpet manufacturing company wasn't geared up for it. Going to EPCH without an excellent digital track record was like sitting on the steering wheel, and not knowing anything about driving.

Long Term & Sustainable View
Digitalising for EPCH fair was one thing for Aamar Industries, but the business doesn't end here. Sabhi digital and the business owner's brainstorming led us to the verdict to completely digitalise the company for the post-EPCH scenario. This vital step would gradually multifold sales, popularity, and revenues in the long term.
Plan To Take Them Online
After finalising everything about the digitisation, Sabhi Digital was ready to work its magic and bring one of the leading carpet exporters in India online. Below's a step by step process of our services for the business.

Initial Step: Making A Website
Like any other process, this process had its first step – making a website. Websites are essential for significant events like the Delhi EPCH Fair. Moreover, sites are an integral part of the whole digital process. Also, websites account for human behaviour patterns. We are prone to trust a business that has an official webpage over some which have none.

We had to ensure the following things to make an excellent website.

Sabhi Digital's view was all about ensuring that the domain name stands out on all fronts:

Easy – It had to be easy to write and remember. We didn't forget the fact that a complicated spelling might confuse the probable visitor. We kept in mind that unnecessary hyphens and numbers in the domain name are accountable for sparse traffic as well.
Budget-friendly – Alongside keeping the domain name perfectly easy to spell, we kept it in our client's budget. If you have even the slightest of an idea about domain names, you know that they have very expensive price valuation. On the contrary, our digital marketing company in Rajasthan chose a domain name of great value with a sub-standard cost.
Web Development For Woolen Handicraft Industry
After choosing a domain name, Sabhi Digital had to move on towards developing the website. Now, the greatest challenge for us, while developing the site was to keep the User Interface (UI) simple, yet engaging.

Our innovative web designers in Jodhpur had this task in hand. Not tooting our own horn, but we must say, they did deliver quite handsomely.

Check out our project here.

Generally, engaging style and simplicity don't go hand in hand, but we made it possible here at Sabhi Digital.

Search Engine Optimisation
Sabhi Digital was ready with a fast, secure, and super user-friendly website for its client. But does our work end here? We guess it's only the beginning here. Thousands of websites offer immense services over the internet. But do they all rank on the #1 page of Google? Frankly, they don't.

To rank our client's website high in the search engine result pages (SERPs), our SEO experts had to intervene. Our search engine optimisation analysts from India were working round the clock to do the following:

Analyse competitors for the keywords they rank for.
Segregate profitable keywords with high CPC, low search difficulty, and a host of SEO factors.
Optimise page speed for less load time, and more viewer retention rates.
Improve overall user experience and keyword integrity.
Once our SEO experts had everything in place, it was our writer's turn to work around the rank-worthy keywords.

In any digital marketing campaign, it's necessary that keywords are not spamming the entire content. Along with that, the keywords had to sound natural and subtle.

Every aspect of SEO had to follow index crawler's requirements. Want to know more about the same? Read our detailed post on SEO for businesses.

Digital Catalogue
We've ticked off two relevant checkboxes – website development and SEO. Now there was a significant task of the whole 'taking-online' process, staring Sabhi Digital in the face. We had to present their innovative carpet range to their customers.

To do this, we decided to make a digital catalogue. Now, what is a digital catalogue? It's an electronic brochure where your clients can see all your product listings and decide if they want to purchase something. Head on to see some digital catalogue examples made by Sabhi Digital.

Along with making the digital catalogue, it was an essential requirement to protect their unique rug designs. A sign-up form was our safe haven to this. We used the same type to protect the innovation of our client Akanksha International.

Anybody who signs up from this form has the authority to view the product list.

Making An Introductory Corporate Video
Now you might be thinking what a corporate video used for is? Well, it's what the name suggests – it briefs your customers about what your company offers you, as a whole.

To make a corporate video, an organisation has to focus on multiple aspects – a script, cinematography, and much more. Sabhi Digital has been a leading corporate video production house in the heart of Thar, and it shows in the corporate video of Aamar Industries.

Below are some sure-shot things to have in a corporate video:
Engagement – The start, delivery, and the conclusion should be enigmatic and keep the audience hooked throughout the time.
Clarity – The video shouldn't beat around the bush, and should give all its offering away within a short-span of three-four minutes.
Clear audio – Most makers don't think about this. Still, the sound is an essential part of any video, and it cements the audience's interest.
Stunning visuals – Is a video even a video if it doesn't have those addictive graphics, visuals, and zoom-in, zoom-out scenes? Enthralling cinematography is as essential as audio quality if you want to make an excellent corporate video.
Conclusion
It's great that you made it to the end. It was a long and informative article. Wasn't it? Now, you know everything about digital marketing and how to take a handicraft business online. And that too, all by yourself. We did everything from making a website to skyrocketing its reach and preparing a digital catalogue for our clients. The cherry on the cake in our campaign was the full-fledged corporate video that we made for Aamar international.

Do you want to take your business online? Schedule an e-meet today.