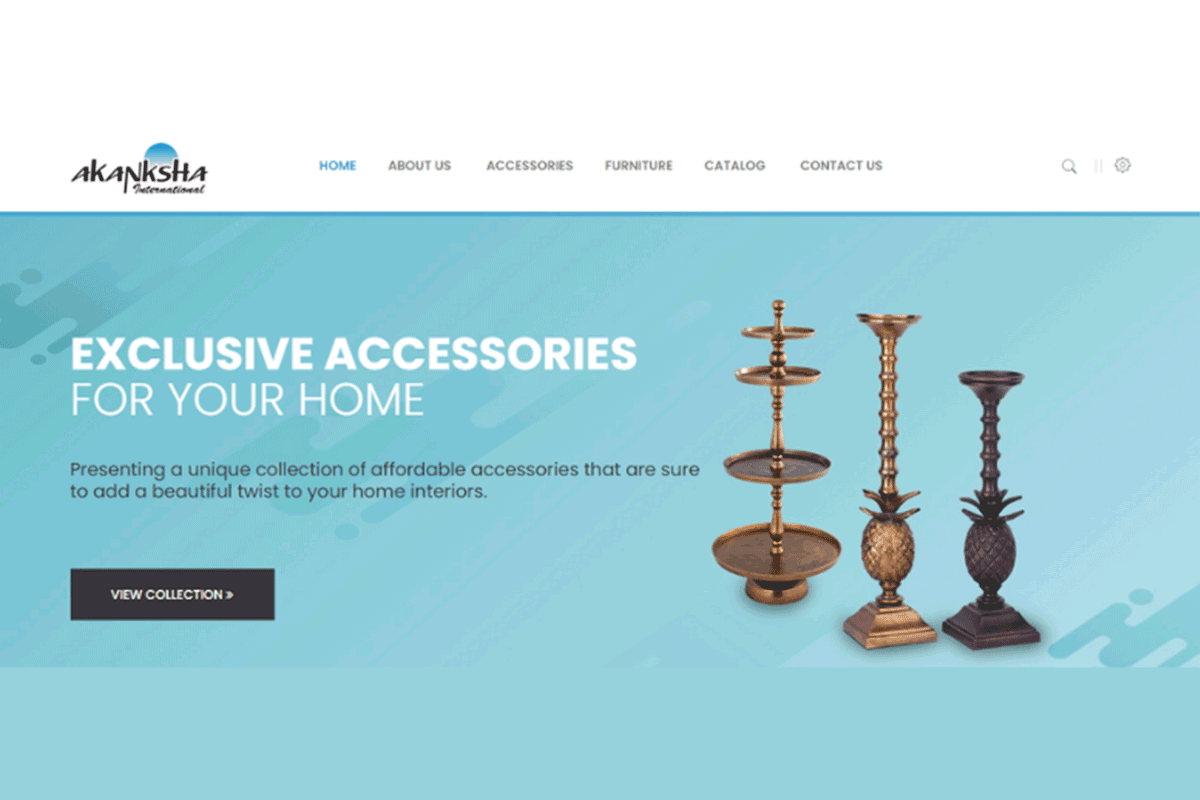 Earlier this year, every industry was under the influence of the pandemic. But, Covid-19 couldn't stop the handicraft industry from thriving. The regulatory bodies took the annual EPCH fair online. Everyone was thinking, how to get a handicraft business online? That's where Sabhi Digital came in and took charge. This case study emphasises what we did to prep up the Akanksha International for an online fair.

About Akanksha International
Established over three decades ago in Moradabad, Akanksha International is one of the leading metal handicraft manufacturers in India. Throughout their inspiring journey, they've been working dedicatedly towards improving the experience of their customers. Lately, the business has also widened its range to provide wooden and marble handicrafts as well. Apart from being a leading manufacturer, Akanksha International is also a handicraft exporter in India that exports to more than ten countries.

Challenges For The Business
The business was performing quite well in the offline physical market. Still, there was plenty of effort put in to make its online presence active. The company owners wanted us to digitise the whole process for them and present to them an end-to-end solution with which they could robustly enter the online EPCH fair.

With digitising their business, came another great challenge for the business – protecting their innovative and uniqueness. And the mere thought of someone copying their innovative ideas makes every creative person uncomfortable.

What The Client Wanted Us To Do?
The client wanted us to take their whole business online. Moreover, they wanted their online business to have a vast reach overseas as well as across the country.

The handicraft exporter in India desired a platform where potential buyers could browse all their offerings in the Delhi EPCH fair.

How Did Sabhi Digital Deal With It?
The task to take a sustainable business online, and that too from scratch, was right in front of us. We had to do everything – from making a website to promoting their brand online and bringing in the right audience.

Below's a step-by-step guide to digitising the whole process for Akanksha International.

Taking Them Online – Website Development
We laid the foundation of digitising their business by making them a website. A website would ensure their online visibility round the clock. Here's what we did to develop a quality website for a handicraft business in India.

Domain Name
Before starting with web development, we were continuously brainstorming to find a rank-worthy domain name for the business. Our marketing experts had this share of work to do, and they did it quite well. Finding the right domain name for a business website is not always a cakewalk, and we had to keep all these things in mind while doing so:

The domain name should be easy to spell and remember. Why? If a potential client misspells the domain name, they will land up somewhere else. This is an instant turn-off for someone who's looking to import Indian handicrafts or even make a retail purchase.
The domain name must be relevant to the business and layman-friendly. Anyone who's listening or reading the domain name for the first time should get an idea of what the business has to offer.
The domain name shouldn't have unnecessary hyphens and numbers. All this makes another great source of confusion for the potential visitors.
Finding The Perfect Hosting
After our marketing guys were done with finding the best domain name for a handicraft business, we had to find the perfect hosting. This was our tech-savvy team members' turn to find the best hosting for a furniture business.

Good hosting is very crucial in determining a business website's rank. Here's what our developers think that good hosting sounds like:
The thought of a website crashing is enough to make the owners and managers uneasy. A quality web hosting ensures that it never happens. A business loses all the online traffic, reputation, and sales for the time its website is down. To avoid this, our developers chose the best hosting plan for our handicraft industry client.

The speed of a website has a lot to with search engine optimisation (SEO) and its rank in significant search engine results. If a website has sub-standard speed, more and more visitors will bounce back before it fully loads. A slow website offers a poor user experience.

Every once in a while, a new update, plugin, or a language rolls out. Our developers see to it that the hosting platform is fully compliant with these plugins, updates, and languages. They also saw to it that the hosting they choose let them add various sub-domains, extensive databases, and the script programming language.

SEO & Quality Content
After our developers were done with setting up the website, it was the turn of our SEO analysts and content experts to work their charm. Sabhi Digital's SEO experts started looking for right search keywords that would then be used by our writers to help bring organic traffic to the website. This step was very fragile for us because a website should have the perfect keyword density. If website content has too many keywords in it, Google marks it as spam. On the contrary, if it has too few of the keywords, then it never ranks.
Making A Digital Catalogue
Our digital marketing campaign for the handicraft business did not end here. It was merely a beginning. Akanksha International demanded a digital way for their clients to take a look at their comprehensive range of products. And like every other time, we came up with an innovative way to do that.

Sabhi Digital's digital marketing team came up with an outstanding idea to make a digital catalogue for the handicraft exporter from India. Our team of seasoned designers and developers partnered up to produce the best in the class digital catalogue for Akanksha International. With this digital catalogue in play, their potential clients could now take a look at their products and engage themselves in ordering for import orders.

Protecting Innovation
For our team and Akanksha International, making a digital catalogue was one thing, and protecting their innovation was another. The owners and business managers were worried about their unique products and designs. The fact that their business competitors might copy their ideas was a big concern for everyone brainstorming this project.

To protect the originality, leaders at Sabhi Digital came together and planned a way out. We integrated a way of protecting their identity as well as securing data of their potential clients – an easy to use sign-up form. This sign-up form uses the visitors' email address and name to give access to the digital catalogue. This way, the owners know who's seeing their products, and can even trace if someone is plagiarising with their original products.

Another good result of this login form was an email list. Now our clients could use the email list to do email marketing and send out newsletters and updates about new stock coming in.

Corporate Videos
We were open to accepting that every engagement will not come through the website and the digital catalogue. And after our thoughtful suggestion, the owners were also on the same page with us. We then came up with an idea to make a stunning corporate video that would create a sudden impact on the viewer.

According to our digital marketers, the corporate video for a handicraft business should have the following factors:

Subtle delivery of the business offerings.
A viewer should see the value while watching the video.
Promotions Over Social Media Handles
We now had the corporate video and website in place, but an additional marketing strategy never hurts, does it? The client and we didn't think so and were planning to focus on improving visibility over social media as well.
Sabhi Digital led the digital marketing campaign for Akanksha International over all the popular social media platforms – Facebook, Instagram, and Twitter. Our second to none social media managers share some thoughts on what they did to make this campaign successful.

We had to create a hashtag for every campaign. This gave a feel of unique identity to the posts, and it was easy for us to analyse the campaign on statistical grounds.

Posting from only one account about a particular business wouldn't do at all. We had to find and partner with influencers, who had a niche centric audience. These influencers then aided us in promoting the brand online.

Prepare A Social Media Calendar
SMMs had to post on every occasion, be it small or big. And for that, we crafted share-worthy images that were in tandem with even killer captions for robust marketing.

What Benefits Did Akanksha International Get From Our services?
After our planned out digitisation of the company's business model, the company saw a successful year at the online EPCH fair. Apart from the fair's preparation, the handicraft export business now has a sustainable online reputation. They'll use these online modes to grow their business online, till the end of the time.