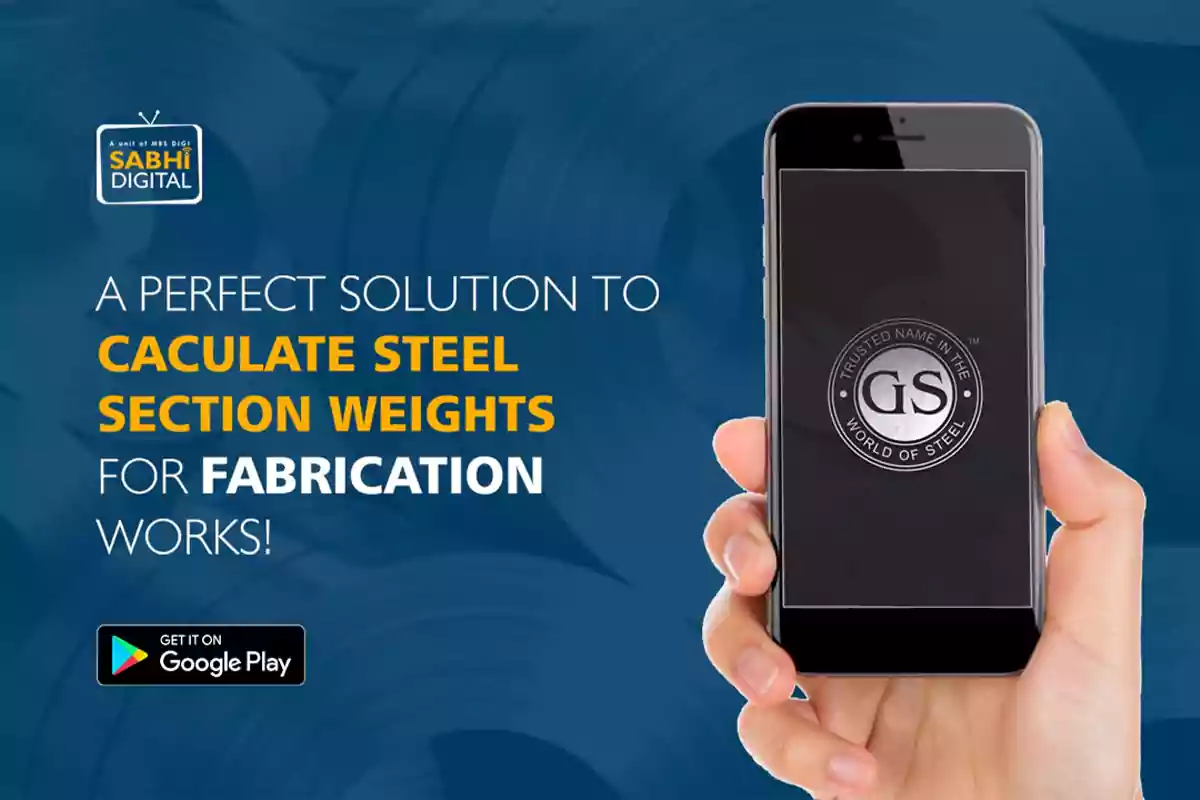 Mobile app development for manufacturing industry can be of great help, especially for managers. It can automate tasks and create fast assistance. It can also help in managing queries more conveniently and eliminate the need for manual assistance for small tasks. Similar is what our mobile app does for Giriraj Steels — an app that usually provides quick calculation of steel section weights, while also providing information about the available products, their types and their use.
Giriraj Steels is a manufacturing industry dealing with products made of basic iron and steel, located in Jaipur.
As per the requirement, the clients needed a quick way to calculate different types of steel section weights for sales purposes. A daunting task in the daily routine included answering queries and giving quotations of various requirements and demands. Each query is unique and needs to be calculated before reverting.
And hence, as an attempt to solve this issue, and to make things faster and more convenient, Sabhi Digital devised a Mobile App for Giriraj Steels.
The mobile app for Giriraj Steels is very useful. It is probably the fastest way to calculate steel section weights for fabrication works.
Here is how it works:
The front end of the app looks like any usual e-commerce app.
You can browse, search and view details of various products manufactured by Giriraj Steels.
Each product listed has detailed previews for reference, such as images, measurements and shapes for identification and specification.
For each product, users can select through set parameters, such as available weights, sizes, quantity, etc.
Each product in the list has a description of possible use and related procedures.
Users can select products, with specific parameters, and add them to cart or favourites.
Once all the products are added to cart, an enquiry can be sent to Giriraj Steels on the click of a single button.
Similarly, replies to queries can be received on the same application in the inbox section with quotations or availability remarks.
On the back end, the app has various useful features, such as:
Add/remove products.
Generate notifications.
Track/revert enquiries.
Track and generate reports and analytics on one click.
Numerous admin accounts to manage and distribute controls on the application.
A super admin account to manage all admins.
Accordingly, various products listed on the app include:
Angles,
MS Flats, Rounds, Squares,
MS Channel,
TMT Bars,
MS Plates, Sheets,
Chequered Plates,
Galvanized Corrugated Sheets
Special sections,
T Section,
IS Beam,
Rails,
Round Pipes,
Square rectangular Pipes,
Colour Coated Roofing Sheets
The usefulness of Mobile App Development for Manufacturing Industry:
A Major Time Saver
Undoubtedly, the app is a major time saver. Because, now the queries are more specific, and generating quotations is easier and faster. It is more convenient to calculate and answer queries if half the work is done by the app.
A better understanding of clients
While selecting and specifying the various parameters on the app, clients or prospects can get a better understanding of how these parameters affect the total amount they have to pay. Ideally, the app helps the client to turn in a more specified order query.
Visibility of products
As a result of all the products listed on the app, it becomes clear that these are all the available products at this dealer. It is informative for prospects and time-saving for the dealers. Increasing the visibility of products may help in generating more leads. Moreover, this helps in some sort of branding as the variety of products are often seen as a parameter for specialisation and mastery in the craft.
Information about availability and offers through notifications
Through push notification or in-app notifications, users can be notified about newly available products or ongoing offers. Push notifications can be sent to the users who previously enquired for something which was not available previously. Isn't it faster than a phone call?
Tracking and analytics
Lastly, with the back-end features of this app, tracking and analytics are now less complicated, faster and insightful for the sales team.
Useful for others too
Above all, this app is useful not just for the sellers, buyers and prospects, but it is also helpful for Civil Engineers, Infrastructure Developers, Solar installation engineers, EPC Contractors, builders, etc.

Thus, Mobile App Development for Manufacturing Industry can automate various tasks. These tasks can make things faster, more convenient. Sometimes, this can result in eliminating the need for manual assistance in such small tasks.