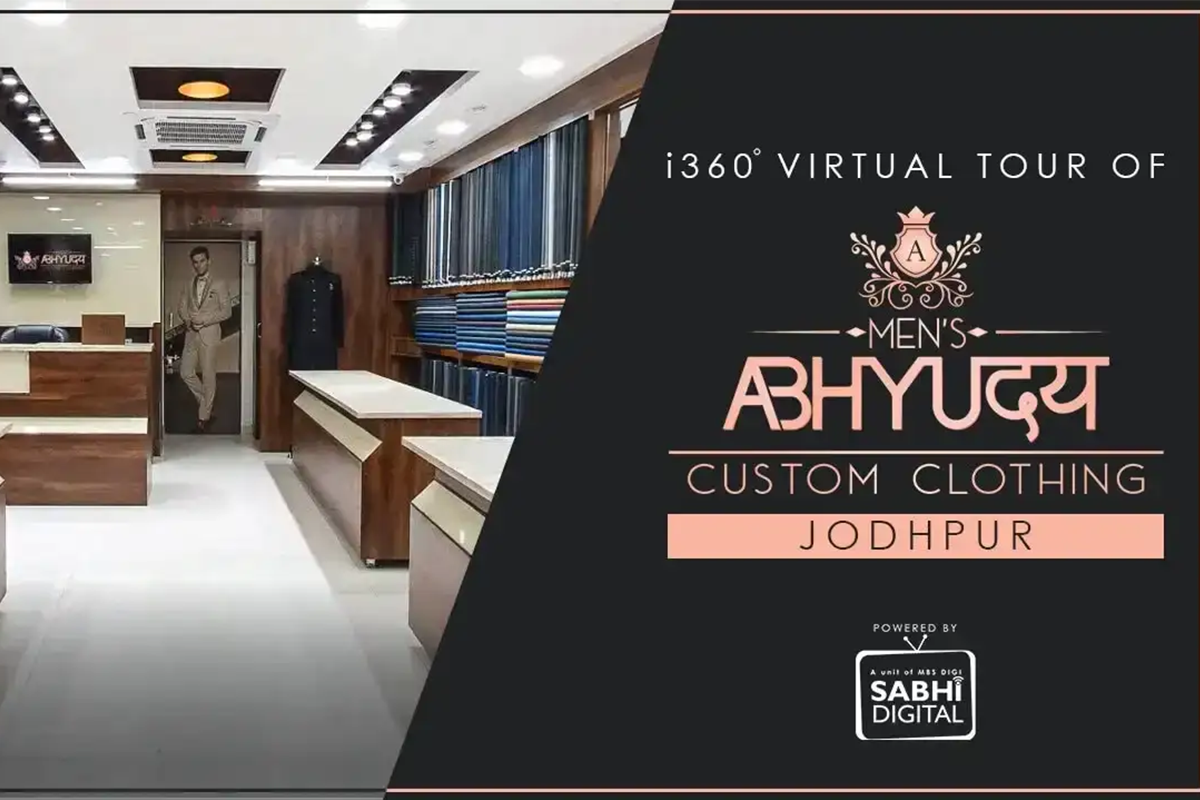 Abhyuday Clothing has been one of the leading dealers in men's custom clothing and their 360 Virtual Tour here – Abhyuday Custom Men's Clothing . Being working in the wholesale market for a considerate time, Abhyuday has recently opened a retail outlet in Jodhpur. The retail outlet is a well-furnished showroom with elegant interiors. This showroom exclusively focuses on the idea of giving a customer complete and fulfilling shopping experience.
Challenges / Objectives
The major challenge addressed for "Abhyuday Clothing" was that they wanted to increase footfall for their store, and become more visible in Jodhpur as well as the peripherals.
Insights/ Research
So, when Mr Kaushal Surana initially approached us for website designing and website development. When we saw their showroom and learnt about their back story, we suggested that they should rather opt for a 360° Virtual Tour for Abhyuday. Mr. Kaushal found the idea interesting and immediately agreed for it.
A day was planned, and an action plan was prepared. The team reached the showroom and covered all portions proficiently. The 360 virtual tour covered everything in the store, right from the entrance, the exteriors and the beautiful interiors. The lighting was on point, and everything kind of fit right and just went with it.
Our Solution and Results
The 360° virtual tour made exclusively for Abhyuday Clothing turned out to be better than we expected. The store looked wonderful and the video perfectly made justice to its beauty. Like our every Virtual Tour, this 360° Virtual Tour also consisted of several smart features such as auto-rotation, information points (hotspots), clickable floor plans/ layout of property, thumbnails for easy navigation, integrated company brochure and link to corporate Video, website menu, Google street view, contact info, enquiry form, single click share button, and many more.
This virtual tour was efficiently an efficient marketing tool for Abhyuday Clothing store. It was a unique way to attract new customers towards the store, tempting them to visit Abhyuday, and hence increasing footfall significantly. Through this virtual tour, they can now give prospects a life-like experience of shopping at Abhyuday Clothing.
Special Highlight of the Abhyuday Clothing Virtual Tour
A special menu was created exclusively for Abhyuday Clothing Virtual Tour website which showcased the major product categories that they sell. Another section showcased the offers and deals going on currently in the store. The menu facilitated a display of the store collections in brief and the perks of a beautiful shopping experience while shopping at Abhyuday Clothing.
It is notable that Virtual Tours are powerful marketing tools, meant not just for estate agencies or hoteliers, but it can be useful for small businesses, new stores, showrooms such as apparel showrooms, footwear showrooms, cutlery and kitchenware stores, jewellery stores etc., helping them to increase footfall, gain more visibility in a particular locality and give them a certain level of brand image in no time.
Milestones
Once finalised, Abhyuday Virtual Tour was integrated into their primary website and could be reached with the click of a button. With our high-tech solutions, creative ideas and hardworking team, we were able to meet our client's expectations and deliver the virtual time in time. The video was admired by all and it surely enhanced the functionality and usefulness of Abhyuday's website.
You can view Abhyuday Clothing and their Virtual Tour here – Abhyuday Custom Men's Clothing
Our 360° Virtual Tour services are open for everyone who desires to market their business in an innovative, impactful and effective way. If you too want to get a virtual tour made exclusively for your business, feel free to contact us – Sabhi Digital
See what Mr. Kaushal Surana has to say about Abhyuday Clothing 360° Virtual Tour – Review