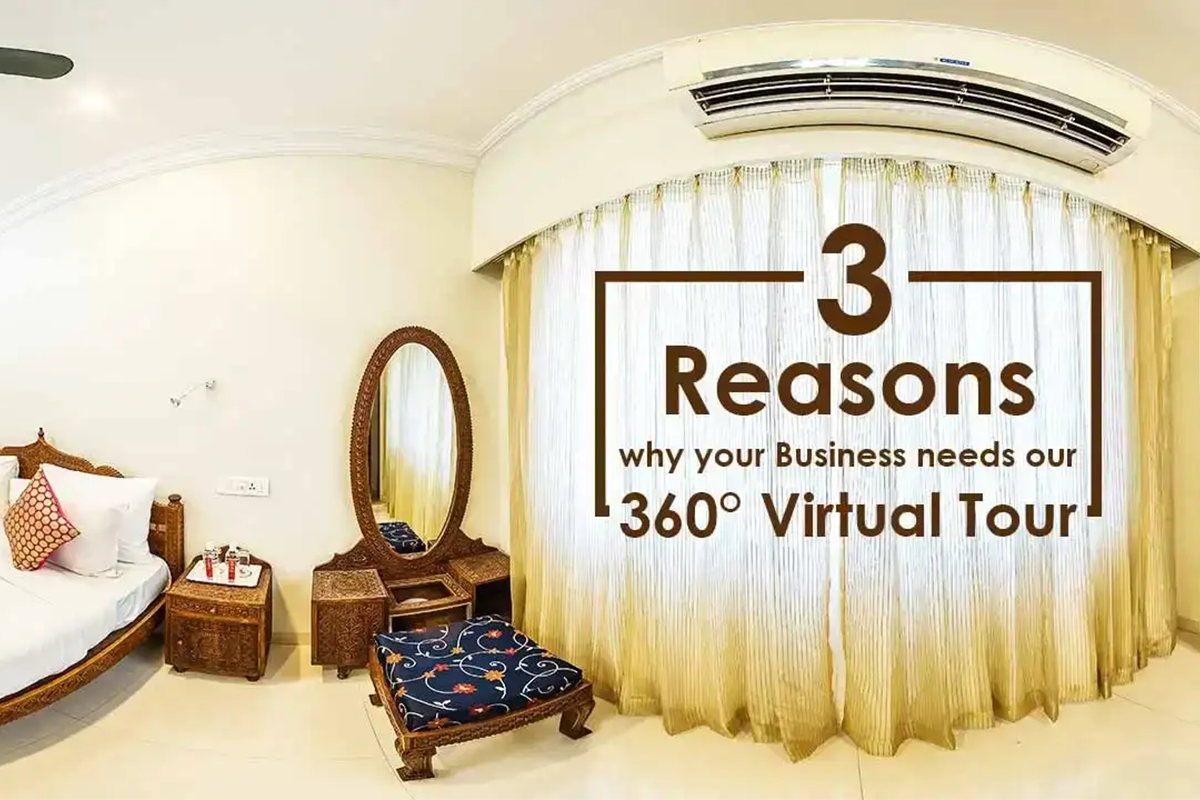 What is a 360° Virtual Tour?
A 360° Virtual Tour is based on the concept of Virtual Reality and is used by businesses to show the customers what they will get on their tour before even visiting that business. It's sort of a real experience, or kind of simulation visiting that location. It is much more beneficial to businesses than traditional media such as images or videos.
How to create a Virtual Tour?
A Virtual Tour consists of various panoramic images that are edited and combined into a tour. It can be called as a miniature of a place which is made from still images and videos. Various multimedia elements like sound, text or music can be embedded with this virtual tour.
Who uses Virtual Tours?
Business like real estate, travel agencies, cafes, showrooms, hotels, restaurants, movie theatres makes the best use of Virtual Tours to enhance their business. Through Virtual Tour, they manage to give their customers same experience and feel which they will get when they actually visit the place. Real estate agents sell the properties to their clients by giving them a virtual tour of the property without the customer visiting the place. This is considered to be the best marketing strategy by every business to increase sales.
These virtual tours show the actual 3-D model of your business location and by adding more features to it such as adding social media link, adding Google Maps Location and other things can make them more interactive. Such virtual tours are a good tool to boost your marketing strategy to attract more customers towards your business.
What makes Virtual Tours created by us unique?
Virtual Tours can improve your business prospects and the tours created by our team are unique from others because of various integrated features. SabhiDigital.com offers a wide range of features embedded within Virtual Tours, which can be very useful for your customers. Some of the features include:
Auto Rotation
Integrated Information Points
Integrated Video
Google Street View
Social Media Links
Logo and Branding
Navigation Menu
Floor Plan for Real Estate
360 Virtual Tour Website
SEO Friendly Virtual Tours
Efficient Loading
3 Reasons why Your Business needs our 360° Virtual Tour
Every business tries to find the best way to get recognition and increase their sales. There are various strategies for this purpose such as social media, traditional marketing advertisements, websites, SEO, and much more. These days the most trending advertising strategy is to make a virtual tour.
360° Virtual Tour influences Google Search Engine Results Virtual Tours are a trending way of marketing and they also help in increasing a business's presence in Google Search. Virtual tours help in providing your website a higher rank in Google search and let customers find you easily. Our team of Google Certified Photographers helps to provide you the best panoramic virtual tour of your business location. Virtual tours generate more traffic to the business website.
360° Virtual Tour increase interaction with customers Virtual Tours increase the interaction with your prospective customers. Hosting 360 Degree Virtual tour on your website would result in customers spending more time on your website as it would help customers customize their experience as they can choose what they want to see. Virtual tours also consist of some useful links to your website and the customers can easily move from one page to another on your website. Virtual Tours when used along with social media messages can enhance customer's interest in your product and services as they would be able to interact with your business for their requirements.
360° Virtual Tour generate more sales in less time Marketing is not only about reaching a wider audience but also providing some convenience and benefits to them. Many businesses have seen sharp increase in their sales after investing in Virtual Tour services provided by us. Our team provides you with 360º Immersive Virtual Tour of your business which helps you in reaching your clients. A recent survey has shown that many people make online bookings after taking the virtual tour of the place.
Why should you choose Sabhi Digital for designing your business's Virtual Tour?
We have a team of experienced Google Certified Photographers who will give a realistic experience of your business location with the help of high-quality images integrated within a tour. Along with the tour, we will provide you with an optimized marketing strategy for your business. In the past, we have doubled the visibility of our customers' websites and our customers are very happy with our high-quality services.