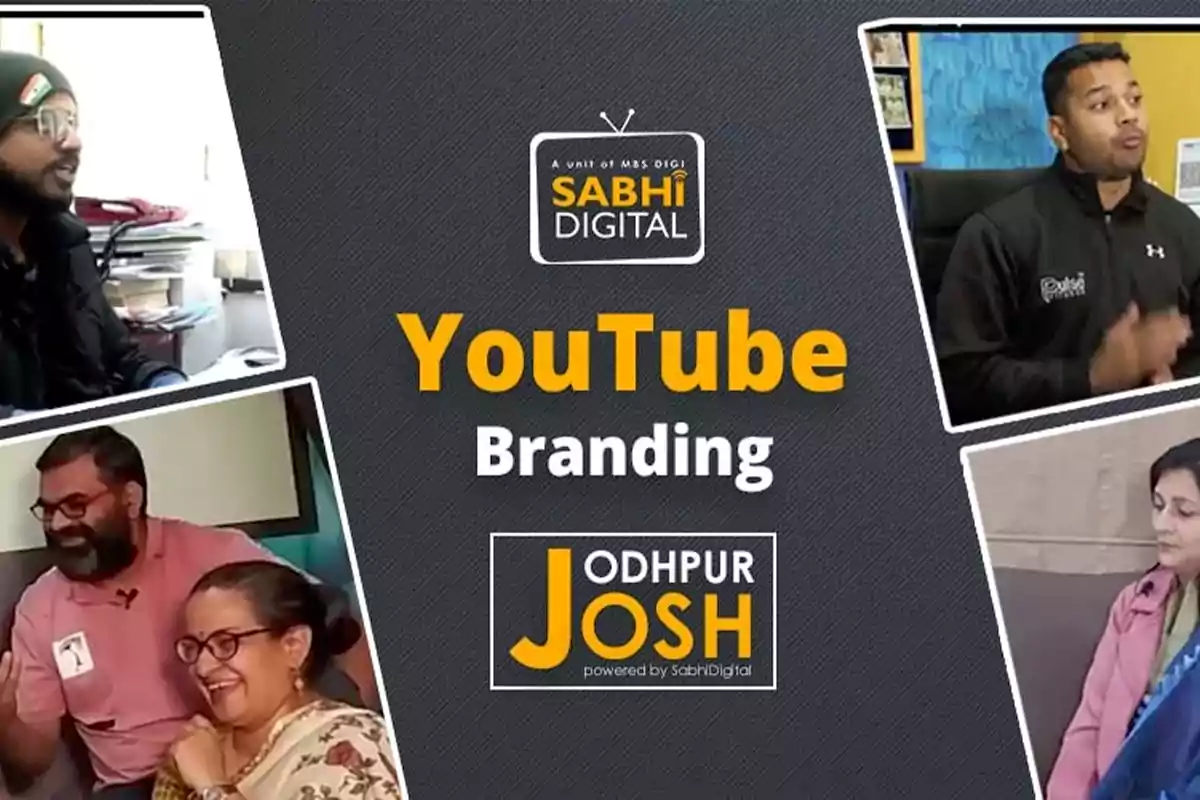 Do you know why YouTube Branding is on the rise?
YouTube has 2 billion active users worldwide, and every day people watch videos for around 1 billion total hours of watch time, generating billions of views.

Particularly, any wise digital marketeer would see this platform as an opportunity that cannot be missed.

Sabhi Digital has recently started a Video series for YouTube which is called 'Jodhpur Josh Series'.
Through the course of this series, we are interviewing a number of Entrepreneurs and Inspiring individuals to cover the stories of their lives.
Sharing stories of local personalitie
Our aim is to not just share their stories with the world but also to inspire the youth not just of the state but all over India while creating YouTube viewership.
All the inspiring stories that we shared and plan to share next come from people who are Jodhpur's localities. They were born here; they worked hard within Jodhpur and rose to their success continuing to stay in the city. Similarly, keeping the subjects of investigation narrow helps us to gain more popularity in a shorter period of time, starting from the local crowd and city public.
A powerful message
Each story has an underlying powerful message reflected in the struggles of each individual. Not all successes come easy, and not everyone who struggles succeeds at once. We aim to motivate the youth and stir the creativity, innovative mindset and successive thinking ability in their heads, hoping that our videos will reach more and more youth in the city and this will inspire more people to come out of their houses, emerge as entrepreneurs of their dream start-ups.
Staying in touch with the roots
However, one common thing about these stories is that they all decided to continue their work in Jodhpur itself. Even after achieving great money and/or popularity, they did not move out to larger cities for higher profits. On the contrary, today's young generation who are continually growing attracted to huge metropolitan cities and their lifestyles and moving out for education, careers, etc. These stories will encourage and inspire them.
Focus on watch-time
Moreover, while analyzing the results and impact of this YouTube series on our YouTube channel; we focus more on the watch-time and less on the number of views on each video. It is notable that the total watch time on the channel makes a greater impact on our channel. It also keeps amplifying as we upload more videos.
YouTube viewership and subscribers
Therefore, in an attempt to share stories, we are able to create a noteworthy presence on YouTube. At the same time, gaining a significant amount of viewership on the platform on our videos.

YouTube Branding is the latest popular way to enhance your brand image in the internet space. Now create a Brand image by sponsoring a higher number of YouTube videos. The more videos you sponsor, the higher the brand awareness; and the higher the number of requests you will receive to sponsor their videos as well. Soon, maybe one day, this might land you into the account of some famous YouTube artist, and to sponsor their videos, or collaborate with them; it could directly affect your YouTube channel and increase your viewership significantly.

Here's what you can do on YouTube:
Generally, to create your own viewership, first of all, you should plan and strategize good content. Content is important. What you share should be interesting to your viewers. It always helps to create content that people want to share with their friends, family, and connections.
Your YouTube series should contain some essential elements related to your company; if you are doing it to create a brand image and not just share content online. Similarly, taking a cue from our start-up we shared stories from other start-ups; stories of entrepreneurs who strived to succeed in their respective businesses.
Your content should be unique and original. Anything other than that is just not worth the efforts. Plagiarised content, if reported can lead to a ban on your channel. Manipulated or similar content can impact your brand image in a negative way. This will take away the whole sense of creating a YouTube channel in the first place.
For all videos that you post, create and maintain a unique theme — an intro, outro, thumbnail, and presentation. All of these are going to reflect your brand, hence, using your brand color palette will be of use here.
Lastly, make sure to share these videos as much as possible on all platforms, groups, contacts, and channels. The more you share, the higher the chances of engagement you will create.
Sabhi Digital provides YouTube and Corporate Branding services with unique innovative ideas to market your start-up, business or brand in videos. Now create a new channel, or boost the engagement on your existing channel. Let us create new, engaging content for your channel.
Let us discuss your next digital marketing strategy.
What could be a better time than now?