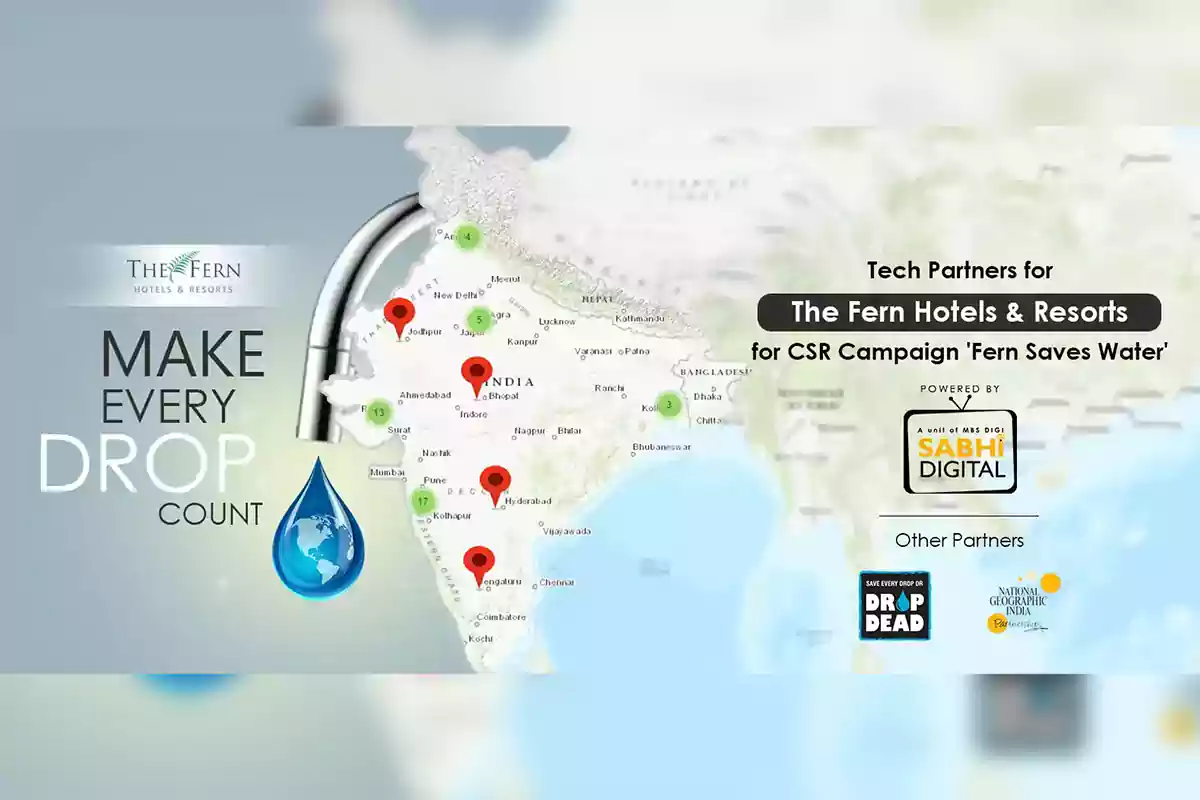 One drop of water sounds like an inconsequential amount. Would you try to save it? Maybe not really.
But have you ever wondered how much difference this small drop of water can make?
If a tap is leaking, and one drop of water leaks from it every second, it will waste a considerable amount of water in one day. One drop looks very small, but a thousand drops make a lot of water. But if it continues leaking for an entire month, it will waste about 1000 litres of water. That's huge, isn't it? Now would you like to save it? Of course, you would. This is what inspired the Fern hotels to tie up with AabidSurti, the famous environmentalist who had initially started a water conservation initiative named 'Drop Dead' in Mumbai in 2007, under which, he visited houses every Sunday along with a plumber to repair dripping taps in houses. Later on, his efforts were also supported by National Geographic Channel (NGC).
THE FERN HOTELS– PROJECT 'FERN SAVES WATER'
As one of the leading hotel chains in India, The Fern Hotels has always tried to utilize the power of its franchise network optimally.
Under their latest CSR project, 'Fern Saves Water', tracing the footsteps of AabidSurti, The Fern hotels have been running a water conservation campaign across India through its franchise network as an attempt to contribute to a larger share in the water conservation campaign run by the government of India. As a part of 'Fern Saves Water' campaign, the Fern is now providing free plumbing services anywhere in the cities of their presence for every leaking tap reported to them. They believe that a lot of water is wasted through leaking taps that are not repaired in time. And hence, the Fern hotels has resolved to play their part in getting rid of leaking taps as soon as possible.
This project is aimed to put their huge networks into use and join as many people as possible for this initiative, as well as to give away the message, to inspire more and more individuals to work towards their social responsibility.
At present, the Fern Saves Water team has been able to save approximately 3 million litres of water by fixing leaking taps across India.
COLLABORATION WITH SABHI DIGITAL
Launching the new project, the major challenges faced by The Fern were:
How to bring in their entire network power, all franchise spanning across Indian cities, to this CSR initiative. Aabid, a one-man army, was able to save 4.14 lakh litres of water in Mumbai alone. Imagine the amount of water that could be saved if all of the franchise networks are employed in this.
How to encourage more and more people to participate and contribute. This campaign would be only half as useful if it does not provoke the general public to become conscious about wastage of water around them and conserve more water on a daily basis.
To launch an online campaign across India and redirect their website traffic towards this initiative. If it's not on the internet, is it even there? A recent TRAI report says that the country has exceeded half billion internet users as per 2019 surveys. These numbers are only expected to multiply each preceding year.
We were aiming to finish the project within a short span of ten days. The Fern wanted to launch it as soon as possible.
This is where Sabhi Digital comes into play. Sabhi Digital accepted to come on-board to build a platform to address all these features efficiently and in the desired timeline.
The need for a Digital Platform
Firstly, with a presence in 35+ cities spanning across various states throughout India, it was a challenge to get every fern hotel on one platform and to enable bookings or requests for fixing leaking taps. Moreover, to make this campaign a grand success, it was crucial for Fern to engage as many people as possible through their franchise network across India.
A bigger challenge was to create a direct impact on the public, not just making people aware about this project but also making people conscious about water conservation in their general lives, and thus making the project a part of their life to ensure more saving of water.
And to continue conserving water more efficiently at a faster pace, it became important to develop a platform that facilitated showcasing of all this data in user-friendly readable form, on an easily navigable platform, which can be browsed across India. Hence, it was necessary that the website is mobile-friendly.
The website can serve as the most useful tool to showcase, browse, and analyze data regarding the project. It is a useful source for every person involved in this project, be it a facilitator or a contributor. Not just the data regarding the project, these tools would also efficiently show information regarding the Fern hotels in a certain area, and query forms for people to report leaking tap and track its processing status. Managing this wide range of data on a single platform is not a task of just one person. Thus, Admins from various hotels should be able to manage it in real-time. Hence, there was a requirement of an admin panel on the website.
OUR ASSISTANCE :
As the Tech Partners for project Fern Saves Water, Sabhi Digital takes pride in serving the Fern in this very thoughtful initiative.
Website development
An easily navigable, user-friendly website that facilitates sharing of information regarding the project, the Fern hotels, and new updates. Full front end development and support to provide the user with a hassle-free experience and sufficient easy-to-use tools for reporting leaking taps and retrieving report status.
Key features:
Simple user-friendly interface
Easy-to-use navigation
Personalised header and menu
Loading speed optimised
Mobile-friendly
Customised footer
One-click re-directing to primary website enabled
Search Bar option to find hotels in inserted locations
Updated data statistics for showing the total water saved by individual hotels as well as during the overall campaign.
Inquiry form to report a leaking tap with contact and address details
A 'query report' to retrieve the status of the report (enables the user to see the name and address of the hotel which has been assigned to resolve their query)
Search nearby hotels through Hotspot Mapping Platform, along with their contact cards, address details, and related information.
Full Back-end support
Complete back end development and support to provide the administrator of the website a stress-free experience with an automated data gathering tool, so as to create CSR data reports, charts and tables.
Key features:
One-click automated generation of data charts
Current ongoing queries, number of reports and their status
Options to assign a query to a particular hotel
Management of query data
Administrator login and secure data entry
An admin panel consisting of data automatically generated to see which hotels are contributing the most and the least
One admin account for each hotel assigned to manage data by hotel managers
One super admin account assigned to manage and look over all hotel managers
Hotel Locator Platform
Subsequently, aided by our Hotel Locator Platform, a mapping utility that facilitates locating of the nearby hotels based on a location entered into the search bar by the user.
Key features:
Each location consists of various informative cards related to the selected hotel
Contact cards of the hotel and related people also displayed
Details showing distance from the railway station & the airport also shown
Easy to add Pictures of the hotel location
Direct sharing to social media button enabled
Option to add 360° Virtual tours of the said locations
Picture gallery to add Campaign pictures and videos
A COMMERCIAL ANGLE
In this way, a commercial angle was added to the website. The tech utility provided by Sabhi Digital served a dual purpose since users can browse not just project-related information, but also general information about hotels, their address and contact details, pictures, videos and other things.
It also increased the visibility of their hotels by showcasing their presence in 35+ cities across India. This would leave a powerful imprint on the minds of visitors on the website.
What could be more impressive than a chain of hotels campaigning for water conservation?
What makes the campaign most successful?
More than the amount of water that is saved, what matters is the conscious thought of water conservation that is implanted into the minds of people through this campaign.
Aabid is just like a spark that led to a forest fire.
The Fern is just playing their part, saving water one tap at a time.