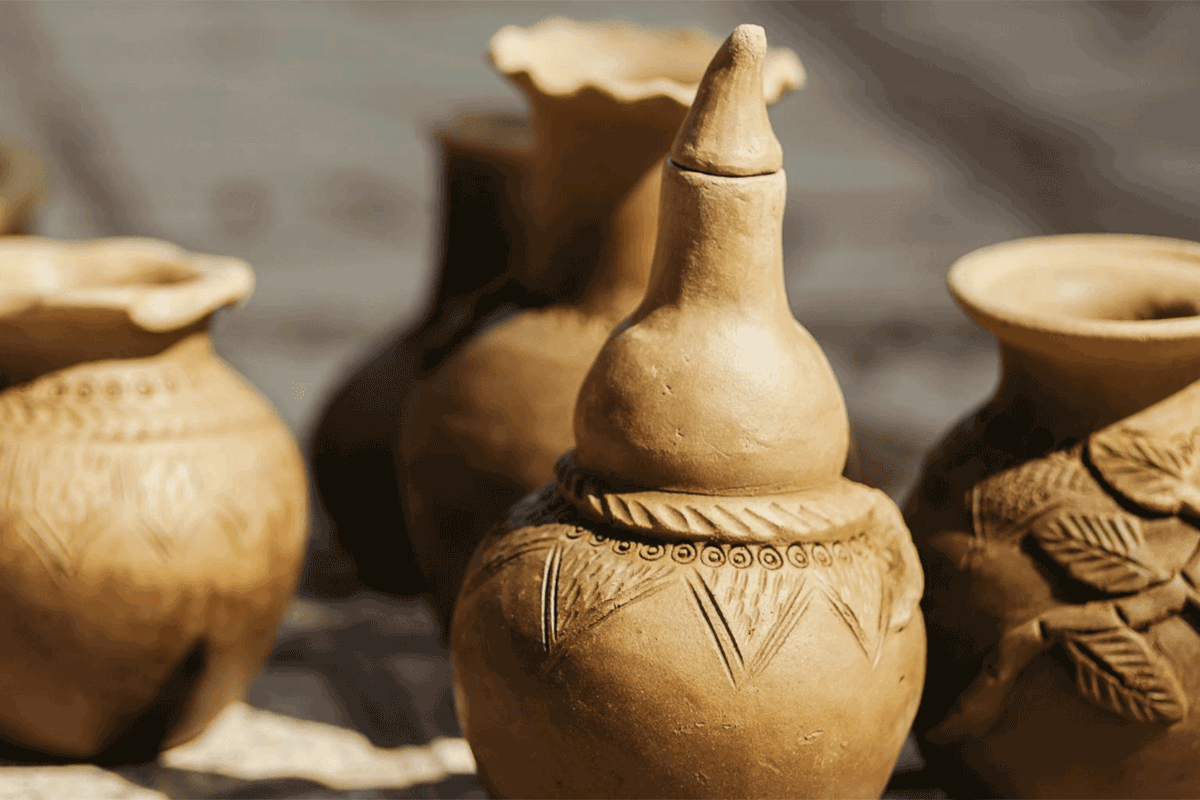 Each year, the popularity of the Indian handicraft industry is skyrocketing in the world. The reason is apparent – a tandem of traditional aesthetics and modern art. For years, the handicraft businesses were seeing a directed graph in terms of their growth, until now. The Covid-19 hit every market quite hard. The handicraft industry was not an exception.

This year, the Export Promotion Council for Handicrafts (EPCH) took the annual Indian Handicraft And Gift Fair (IHGF), online. It was a great verdict to prevent the proliferating spread. Most handicraft businesses are in a deep thinking state when they came abreast with this decision. Why so? Because before the pandemic, they were focusing on the physical market and had no plan for making an online presence. Does this sound like you? If yes, then we have some robust digital marketing techniques for the handicraft industry. Follow these religiously, and take your business online, today…!!

Make A Business Website
You need a business website to kickstart your online presence. The foremost thing you should do is get a website for the handicraft business you own. Below is an end-to-end process to get a website up and to run.

Choose A Domain Name
Before you think about website development for handicraft business, you should have a domain name to start with. Your domain names make a good part of your online presence. It's an address with which your customers can access your online store.

A right domain name should be:
Easy to read, say aloud, and spell.
Striking. It should be memorable.
Relevant to your business model or the services you provide.
Now you know what a right domain name sounds like. Here's what it shouldn't be:
Confusing. With a complicated domain name, the chances are that your potential customers will land on an altogether different site.
Irrelevant. If it's trivial, the potential customers will have a hard time understanding your business model.
Full of numbers or hyphens. Too much of these create a state of confusion for someone who's typing manually.
Get A Hosting For Your Online Handicraft Business
Once you have a hosting, you'll need a hosting to park it. Apart from that, you'll also need hosting to develop and design your website. There are a host of hostings available on the market, ranging from cloud hosting to shared hosting, to individual business hostings. Choose a hosting that suits your business needs best.
Another core thing to keep in mind while purchasing a hosting plan is the approximate users that will visit your website per month. If you choose a plan with reduced bandwidth, then the site will have a sub-standard user experience.

If your budget persists, purchase servers to host your website manually. Although, that will require much tech-friendliness.

Increase Your Website's Reach – SEO
If you are thinking that having a website is where your quest to rock your business online ends, then you are wrong. There are more than one lakh websites over the internet. With so much saturation, what are the chances that your website will have a vast reach?

That's where Search Engine Optimisation plays an excellent role in your online business. You need to optimise your website as per your target audience. Good and organic SEO practices ensure regular traffic to your websites, which eventually means more profitability.

Here's everything you need to know about SEO:
Keyword Research
Naturally, you'll write something on your website. Instead of writing anything, why not write something meaningful and relevant? This will increase the quality of user experience and user interface, as well as boost your rank online. To start with the content, you need to find some keywords. Keywords or key phrases are the words or phrases, for which you want your website to rank for. Make sure your keywords are easy to search, type, and think. There are multiple keyword research tools available online. You can choose any of them.

SEO Friendly Content
Now that you've your set of keywords, the next task is to incorporate them into the text on your handicraft business website or your local furniture website. Add blogs, whitepaper articles, and information about your business and sales to your site. Plan a content mapping strategy and act accordingly. Regularly update blogs and articles on your website. Here's a checklist for adding SEO friendly content:

Make sure your content is informative and useful for your audience.
Keep everything clear and concise; don't increase the word count unnecessarily.
Focus on the keyword density, and don't spam the whole content with keywords. If you want to witness organic growth, keep your keyword density between 0.1 to 0.3 per cent per thousand words.
Remember, plagiarism is a rank-killer. Google has bots and crawlers that know if you are copying something from any website over the web. For this, the search engine automatically ranks you lower in the results. This impacts your overall growth. Refrain from plagiarising your content.
Take Your Showroom Online
The domain, web hosting, and content for your online handicraft business are in a profitable alignment. But the central concept of taking your business online is still missing – your virtual showroom for selling online.
To do this, you will need a website builder for your ecommerce site. The best in class website builders are Shopify and WooCommerce. You need to install them on your website, and then develop the website. List all your products, along with search-worthy descriptions and exceptional pictures.
While designing your website, you need to keep the interface clean and simple to prevent visitors from bouncing back.

How Corporate Videos Work Wonders?
If you follow the above steps, you'll have a good content strategy, generating handsome traffic for your website. But does the competition end here? No, it does not. For four-dimensional growth, you need to focus on one more thing – Corporate videos.
Content is excellent for organic growth, but these videos impact your potential customers directly.

A corporate video is a robust marketing strategy to reach out to more and more people and say everything about your company loud and clear. Moreover, you should know that SEO and ranking your website high is all about seamless user-friendliness. A corporate video on your website will make the website more surfing friendly.

Below are our tips for amazing your customers with a corporate video:

Make A Script
This one is a no-brainer. You cannot just start shooting a video and say some random things. You need to plan everything about the video like what scene you would choose, and what the narrative says to the audience.
A good script will set things up for the person filming the video, as well as the speaker who will be facing the audience.

Provide Value
While watching the corporate video for handicraft business, your audience shouldn't feel that everything is about the company only. The video should convey a message to the audience, and they should see a value in it.

Pre Decide The Pace
A corporate video of length ten minutes is awkward, and something close to twenty seconds might look like a GIF. You need to entertain, inform, and impact the audience, that's why to choose the video length and pace accordingly.

As a handicraft business owner, you need to strike a balance between the quick and lengthy pace, and that will be the most challenging part of it. Make sure that the introduction, middle, and the conclusion hooks up the audience thoroughly.

Influential Ending
A potential customer, watching your corporate video should get something at the end of it, even if it's hard-proof information, and not a striking offer. Ensure that your video's ending is conclusive and concise.

Create Your Virtual Catalogue
If you have a website, it's essential to understand that every potential client will not come from a single funnel, i.e. your website. That's why you need a virtual catalogue for handicraft items. This catalogue is useful in sending out as attachments in bulk emails, WhatsApp messages, and text messages. Also, you can upload these catalogues on your social media handles for everyone to assess your splendid products.

Running Social Media Campaigns
After having your videos and content ready, the next thing to take care of is Social Media. Social Media can make or break your business online. That's why one needs to focus on it extensively.

Make your business active on all the popular social media handles – Facebook, Instagram, Twitter, and LinkedIn. Upload relevant information, corporate videos, and behind the scenes of your handicraft industry in India on all these handles.

Also, it's necessary to share your blog posts, business catalogue, and latest videos over social media to ensure good reach. Posting all these stuff doesn't mean that you have a striking brand presence online. Follow our tips to ensure excellent visibility online.

Research Competitive Businesses
Carefully examine what is excelling or failing your competition on social media platforms. Look out for any strategy that's not working for them, and refrain from doing the same.

Keep Your Handles Updated
If you want a successful social media campaign for your online handicraft showroom, then you should follow one simple rule – "Trend is friend." Keep yourself in-the-know of everything that is trending, and start posting accordingly.

Balance Is The Key
As a business over the vibrant social media, you need to maintain a balance between your posting habits. Throughout your campaigns, you'll have to post promotional as well as non-promotional content. You need to post in the balance because too much of everything is terrible.

Unique Hashtags
Choose different hashtags for all your various campaigns. This will help create engagement within the audience. At the same time, a hashtag will help you monitor all your posts, shares, retweets, etcetera and help you assess the results of your campaigns.

Go Live Regularly
You have successfully created a brand online, and all your social handles are thriving. Now create a bond with your audience and incorporate them as a family on your business journey. To do this, you should often go live and interact with the audience, answer their questions about your products, and discuss everything of their interest.

Cut The Chase – Hire A Digital Marketing Agency
The above were the necessary steps to take to get your handicraft business online and reach a more extensive network of people. But at the same time, you also have to focus on exponentially growing your business. Sometimes, juggling these two balls becomes difficult for business owners and managers, and this is a pivot point for any business' success.

To avert this situation, you should definitely hire a digital marketing agency. By hiring a marketing agency, you ensure your focus on your actual business – making exceptional handicrafts and awe-inspiring furniture.
What To Look For When Hiring A Digital Marketing Agency?
Okay…!! You're ready to hire a digital marketing agency, and you wish to skip the hassle of building everything from scratch. Now the question arises – which digital marketing agency to hire? Because there are literally thousands of agencies in the market, but which one is the best?

Here's our guide to hiring the best digital marketing agency:
Seek What You Need
In this case, you need a digital marketing agency that will do website development for the handicraft industry, social media marketing, and digitising your whole business model. So choose an agency that's efficient in doing all these things, and not just one.
Look Out For Industry Expertise
Choose a marketing agency that has a track record of success when it comes to handling your business niche. Here, you have a handicraft business, and Sabhi Digital have efficiently managed digitising handicraft giants like Akanksha International. Book a free consultation call today.
Be Result Oriented
Focus on what a digital marketing agency is promising you as a result of your whole deal. Look if they are promising you an end-to-end solution for digitising your entire journey. Also, ask the agency to be upfront with you about the after-deal service. If they will solve any issue that may arise a month after your pact ends, or not.
Are They Staying Up-to-Date?
A robust digital strategy is all about keeping yourself abreast with the latest trends in the market. Ask your potential agency if they have access to the latest digital marketing tools.
What About Reporting?
Let's say a given agency checks off all the above criteria, still, are they efficient in giving out insightful reports? Check the report frequency of the agency, and how easy to read are their reports?
Are They Asking For Fair Price?
Sometimes, a company is fulfilling on all grounds, but the price doesn't seem to fit your capital. Check all the industry rates, and then think about signing the contract.
The Ultimate Checklist
Discuss this checklist with a potential agency before signing them up. Ask them if they provide these services?

Search Engine Optimisation
Conclusion
In this article, we took you along a digitising journey for your handicraft business in Jodhpur, or any other city. Getting found organically is better than searching for 'furniture retailers in US' over search engines. Follow all the above steps, and build a robust digital marketing strategy for your handicraft business and join the internet rally to boost your business online.