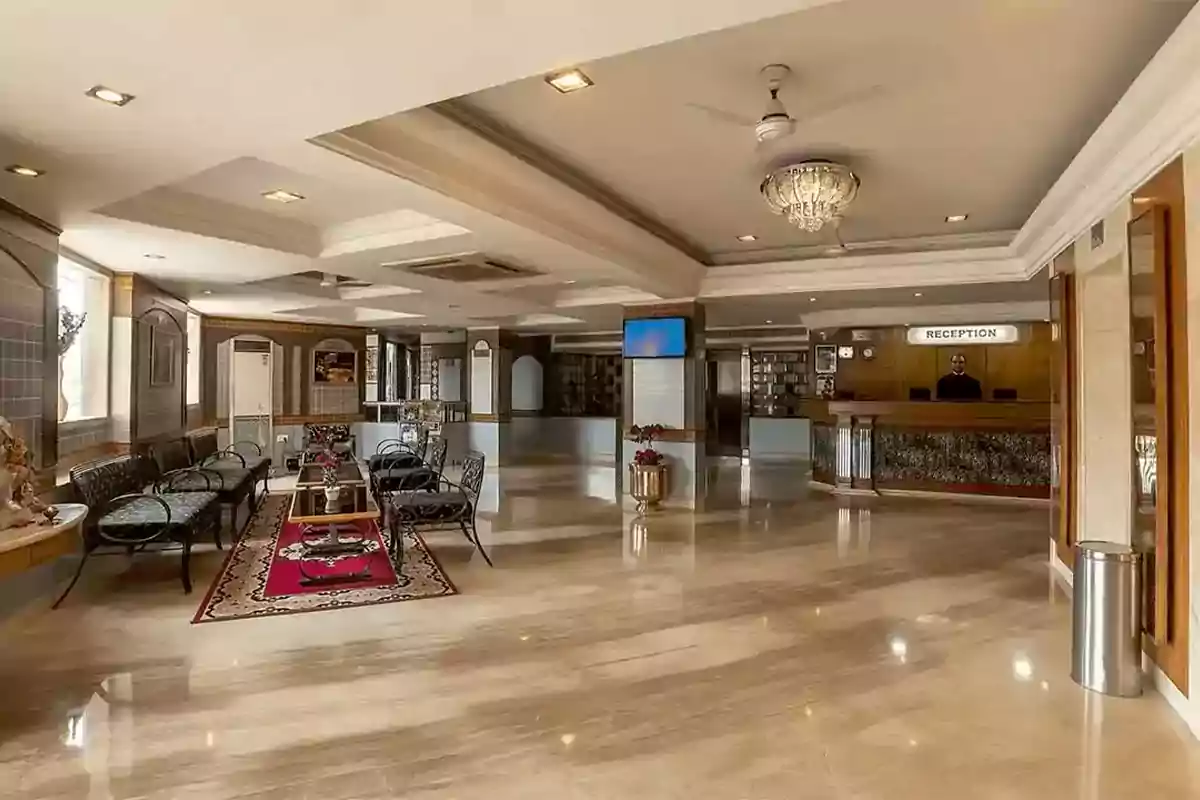 Hotel Chandra Inn, one of the most renowned hotels in Rajasthan, is known for its elegance, hospitality and cuisine. Situated in the heart of Jodhpur, Chandra Inn has 67 spacious and well-furnished guest rooms, connected by an alluring lobby. The rooms have great views and the hotel is particularly proud of its interiors. The hotel also consists of beautiful banquet halls for weddings, meetings and events. The hotel also has an in-house restaurant called 'The PawanSagar Restaurant', known for serving delicious Indian food and a variety of cuisines.
Challenges/ Objectives
Chandra Inn is a huge hotel consisting of various facilities like rooms, halls, restaurant, garden, etc., which are often booked out separately during weddings, parties, events, or conferences. When people want to book these sections, they have to visit the hotel to see it themselves. When prospects who cannot visit ask for quotations, they are sent pictures of rooms, banquet halls, garden, etc. This is a challenging and tedious task.
Another challenge was that so many pictures could not be segregated and put up on the website. Moreover, pictures don't do justice to the look and feel of these spaces.
Insights/ Research
When Mr. Pawan Boob saw some samples of our previous 360° Virtual Tours, he thought it would be amazing to showcase his hotel through one of these Virtual Tours. It was a great idea. He immediately wanted a similar virtual tour for his hotel too.
Our team visited the hotel and saw the hotel first-hand. We saw the catalogue of pictures used initially. We prepared an action plan, which had to be strategized well since the hotel was huge and the rooms and banquets hall were so many that it was a challenge for us to cover everything in the Virtual Tour. The 360° Virtual Tour shoot started and we began to cover each section one by one. The interiors were all so splendid that we did not want to skip anything while shooting. The colour variations in various sections were all so soothing and vibrant at the same time, it gave the virtual tour a charm of its own.
The hotel also specialises in decorations and event planning, and hence Mr. Pawan insisted that we should also include day and night views of the banquet halls so that the way the hotel lighting enriches and intensifies the enticing beauty of the hall could be showcased through Virtual Tours. The 360° raw footages turned out to be much better than we expected, and more than the client himself, we were excited to see the final product.
Our Solution and Results
The 360° virtual tour made exclusively for Chandra Inn proved to be a powerful marketing tool for the hotel marketing team. The hotel looked magnificent and the video was unbelievably beautiful. The beauty of the lighting and the interiors amplified unexpectedly. Like our every Virtual Tour, this 360° Virtual Tour also consisted of several smart features such as auto-rotation, information points (hotspots), clickable floor plans/ layout of property, thumbnails for easy navigation, integrated company brochure and link to corporate Video, website menu, Google street view, contact info, enquiry form, single click share button, and many more.
This 360° virtual tour video was like a digital revolution for Chandra Inn Hotels. It was the most creative and innovative tool to showcase the property that they had ever used. With this Virtual Tour, they were able to give their prospects a real, life-like, first-hand experience of the hotel property. The entire hotel was covered in the tour, the rooms, the banquet halls, the garden, lobby, interiors, everything. No spot was left hidden.
The 360° Virtual Tour went live and the praises from well-wishers, clients and visitors started coming in like showers of blessings.
Special Highlight of the Chandra Inn Virtual Tour
In this case, the Virtual tour was a much-loved challenge for us – one, because of the enormous spaces to be covered, and two, because the client wanted separate links for each banquet and room. Say, if a prospect wanted to see one of their banquet halls, he can view it directly with a link, rather than having to go through the entire virtual tour until it finally showed the exact banquet hall that he wants to see. Similarly, if the team wants to show only some particular rooms to a prospective client, they can share a direct link of a virtual tour of the said room, avoiding other rooms and halls.
A specific menu was created on the Virtual Tour website which showcased direct navigation to a specific banquet hall, room or garden. The PawanSagar restaurant was also added to the same list on the menu.
Keeping in mind the purpose and requirements of this particular 360 Virtual Tour, an enquiry form was also added to the website where a person could address their queries on specific portions of the hotel.
Milestones
The way the entire 360° website turned out after much needed hard work of our developers and team, it was a surprise even for us. With our high-tech solutions, creative ideas and undefeatable spirit, we were finally able to meet our client expectations and requirements.
It was one of the most amazing 360° Tours we have done. We loved it, and so did Mr. Pawan. It was an unforgettable experience.
This 360° Virtual Tour was loved by everyone so much, that a lot of people who saw it expressed that they would want a similar tour made for their businesses as well.
So the virtual tour became yet another symbol of admiration, not just for Chandra Inn, but for Sabhi Digital as well.
You can view Chandra Inn and their Virtual Tour here – Chandra Inn Virtual Tour
Our 360° Virtual Tour services are not just for hotels, they are good for anyone who desires to market their business in an innovative, impactful and effective way. If you too want to get a virtual tour made exclusively for your business, feel free to contact us – Sabhi Digital
See what Mr. Pawan has to say about Chandra Inn 360° Virtual Tour