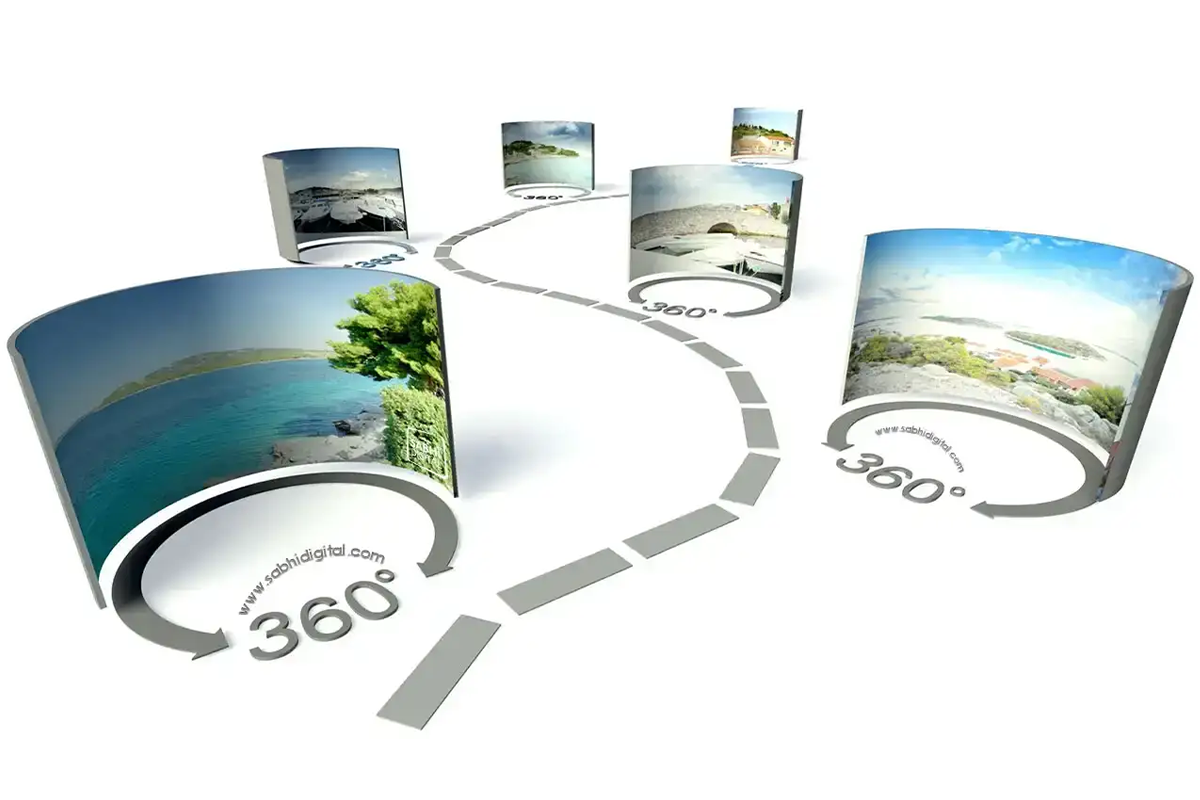 What is a 360° Virtual Tour?
A 360° virtual tour photography is a spherical 360° format based simulation of a physical location. It is generally made by stitching or linking together images or videos with hot-spots. Tailored virtual tours can contain other media & web links as well. These include sound effects, music, narration, and text. Unlike old media's limitations, it offers a whole new level of interactivity and decision-making to the consumer and is a vastly more valuable promotional tool for exhibiting a business location, event, website or location.
How does virtual tour work?
This 360° Virtual Tour can be embedded to your website directly, or as a widget or a plug-in, or it can remain as your standalone website with informational links & Controlling link. It can also be uploaded on You Tube as a video. It can work as a visiting card for anyone who wants to know more about your business/brand.
What's so special about 360° Virtual Tour?
Here is a comprehensive list of Virtual Tour Website features no other Virtual Tour vendors can provide.
Auto-rotation (For Tour to be used both as 360 Virtual Tour and Video)
Information Points (To highlight main features of the property)
Corporate Logo linked to your Corporate Website (For viewers to check our your website from within the tour)
Thumbnails to Move Around the Tour (Very handy for viewers to navigate through the Virtual Tour)
Social Media Integration (For viewers to be able to visit your Facebook, Instagram & Twitter handles from within the Virtual Tour)
Website Menu (With following pages – About Us, Product/Services, Offers, Testimonials, Contact)
Contact Us Page (So that viewers can send inquiries through email from within the Virtual Tour)
Integrated Image Gallery* (20 pics)* (Image gallery with up to 20 pictures of the property integrated within the Virtual Tour)
Integrated Corporate Video* (Your Corporate Video or Video for this particular property can be integrated within the Virtual Tour)
Integrated Brochure* (Your Property Brochure can be integrated for viewers on single click from within the Virtual Tour)
Clickable Layout/Floor Plans of the Property (Integrated Floor Plans for viewers to have Bird's Eye View)
360 Virtual Tour in Video format (For Whatsapp/SMS circulation on single click)
Google Street View (360 images to be uploaded on Google My Business as well for your property to be available on Google Search)
Google Map Integration (For anyone to find directions to the property from within the Virtual Tour)
Who can benefit from google certified 360 Virtual Tour ?
Real estate and housing industry — apartments, societies, properties
Fashion industry —apparel, footwear, accessories, jewellery
Beauty industry — salons, spas, parlours
Showrooms — boutiques, clothing, cutlery, kitchenware
Hotels, Restaurants, food courts
Entertainment — Cineplex, Multiplex, Gaming zones
Malls and Market areas
Tourism Industries
Service sectors — hospitals, banks
What are the Pros?
It is a powerful marketing tool to increase footfall or visitors on your business website.
You can maximise the visibility of your business or brand in your locality and the peripheral regions.
It is an innovative way to publicize your business, something different from the overused traditional media formats, so the chances of it being noticed will be the highest.
Since it is something not very common, it is surely going to grab everyone's attention and attract new customers for your business.
It works as a great Branding solution, to establish a certain level of brand image in the competitive market.
You can give your clients of potential customers a real life-like experience of your products, services or properties through virtual tours.
It is easier to showcase your business through a virtual tour as compared to a picture, text or even a normal video.
With the help of a virtual tour, you can also flaunt the interiors and infrastructure of your property or workplace on which you probably spent a fortune.
You can use this virtual tour like a modern and digital version of business card
You can also showcase your products, their details or prices using hotspots, by including them in the virtual tour.
A virtual tour is like digitalising your marketing strategy to increase the ROI.
What are the Cons?
It is likely that you do not have the high-tech cameras, software or even skills required for creating a virtual tour, and hence cannot make a virtual tour for yourself, which is why you will have to hire a digital agency or a videographer. This is definitely going to be a costly endeavour.
The Virtual Tour facility is not for you if you are someone who focuses more on the services, products and less on the infrastructure, interiors and whereabouts of your workplace.
A virtual tour captures everything, from dirt to damage and from crack to leakage. So, if you are getting a virtual tour done for your business, make sure everything is in check. If something you won't like to show has been included in the video, you can get it edited and removed.
Conclusion:
Whether you should get a 360° Virtual Tour photography done for your business or not depends on the kind of business you own and its requirements. It also depends on your digital marketing strategy, your budget, and your target audience.
Virtual Tours look attractive, and they can be good tools to showcase your business or property. In a world full of 2D pictures and bland websites, 360° Virtual tours can totally glam up your website and make your message stand out across media and platforms.
It is the digital era and where you invest should be worth it, giving in the best ROI for your business. And Virtual tour photography sounds like one of those tools that can.
To check a few samples of 360° Virtual Tours, Click here.
With Sabhi Digital, creating a 360° Virtual Tour for your business is fast and hassle-free.